What is Speech Therapy?
Speech-Language Pathologists (SLPs) specialize in the evaluation, diagnosis, and treatment of communication disorders (speech and language disorders), cognitive-communication disorders, voice disorders, and swallowing disorders.  SLPs also play an important role in the diagnosis and treatment of autism spectrum disorder.  SLPs also help people who stutter to speak more fluently.   Articulation and fluency are only a few areas of the work of an SLP, and in fact, they are concerned with a broad scope of speech, language, swallowing, cognitive, and voice issues involved in communication. 
 What is Unique about Speech Therapy at Kids & Horses?
Kids & Horses offers a unique variation to speech and language therapy by incorporating hippotherapy. According to the American Hippotherapy Association, Hippotherapy (hippo is Greek for horse) involves SLPs, along with OTs and Pts using evidence-based practice and clinical reasoning in the purposeful manipulating of the movement of a horse to engage a patient's sensory, neuro-motor, and cognitive systems to achieve functional outcomes. It is a treatment strategy. While riding on a horse may not appear to have anything to do with speech therapy, the spectrum of benefits provided by hippotherapy is wide-ranging.
The multidimensional movement provided by a horse is variable, rhythmic, and repetitive, which produces a calming effect on riders. This in turn facilitates neurophysiologic systems that support all of our functional daily living skills.  The therapist or handler is actively moving the horse to facilitate different neurological reactions in a person, including body control, posture and attention, which leads to speech and swallowing because it is all the same nervous system.  Speech is motor based, so by using the horse, you are targeting every aspect of the neurological system with every step of the horse.
Typically, therapy sessions are one-hour.  Thirty minutes of each therapy session is spent utilizing hippotherapy as a treatment strategy. The other half of the session occurs in the clinic, where the patient participates in the usual table-top speech, language, or cognitive therapy activities. During this time, the therapist and families may also collaborate to problem-solve challenges and develop strategies for home and school. All 60 minutes of therapy can be offered in the clinic if hippotherapy is determined to be unsafe for an individual (i.e. uncontrolled seizures or atlantoaxial instability present in Down Syndrome), the client is under the age of 2, if the individual does not wish to ride, when the horses have scheduled vacations and/or on inclimate weather days.  On occasion therapy sessions may only comprise 30 minutes.  In this case, hippotherapy and clinic sessions will typically alternate.
What is the frequency?
Speech therapy sessions are most commonly 60 minutes, once per week. Typically, the first 30 minutes are dedicated to traditional treatment techniques in the clinic on-site and 30 minutes of goal-directed activities on horseback.
What is the Cost?
We are in-network with Medicaid, Hometown Health, Blue Cross Blue Shield and Prominence. Private in-network insurance plans typically require co-pays and cover the rest after deductibles have been met. Out-of-network insurance plans may be able to be billed out-of-network. Some insurance plans do not cover therapy services or have limitations. In this case, you may talk to the therapist about what would be the best payment option for you.
How do I start?

If you or a loved one is interested in speech therapy at Kids & Horses, please complete our Prospective Client Form. You may also email [email protected] or call 775-267-1775.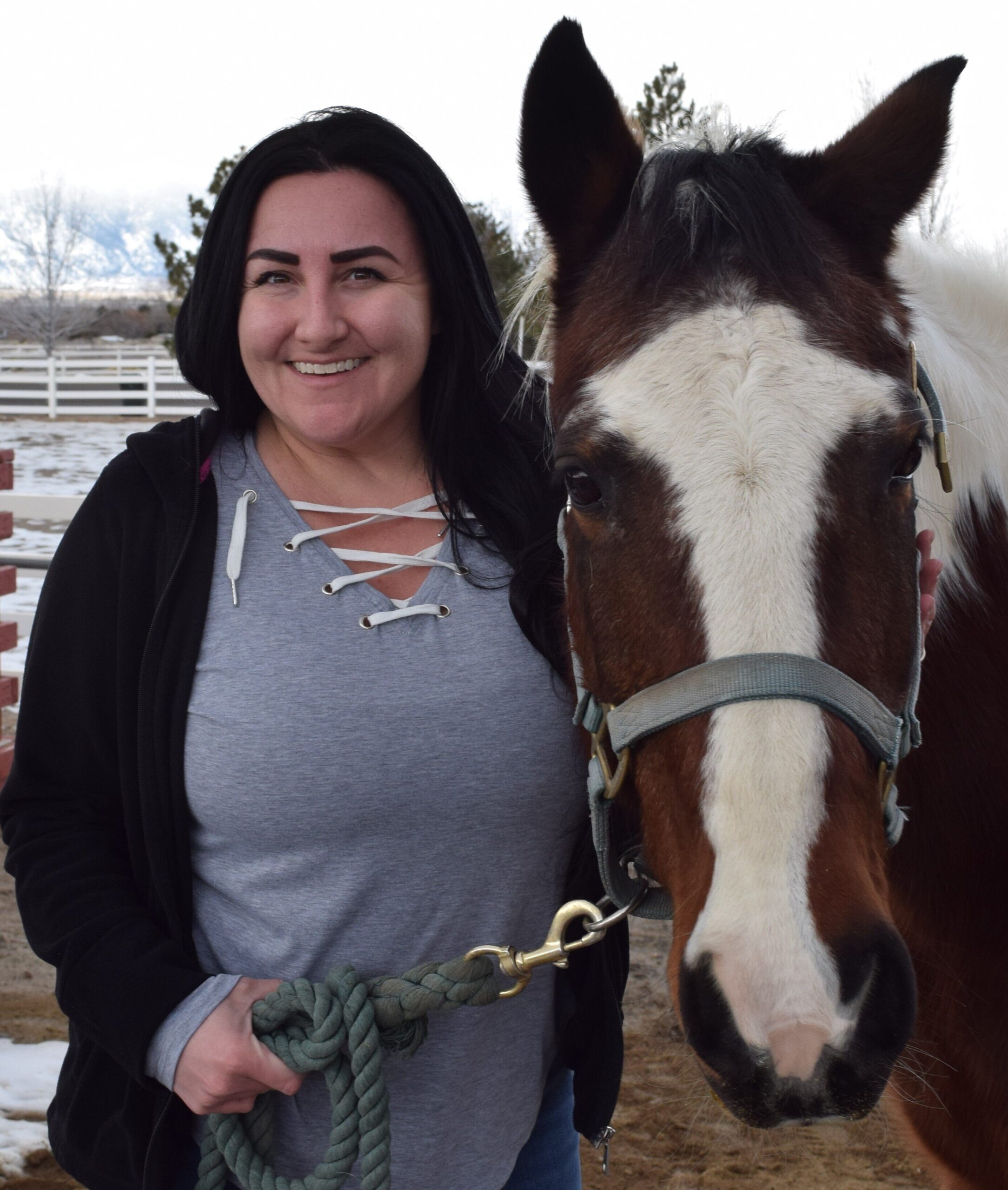 Sabrina Cator,

MS, CCC-SLP
Sabrina was born and raised in southern Nevada before moving to Maryland with her husband Brian in 2009, where she attended Towson University's Speech Pathology Program in Baltimore in 2012. They had two children and moved to northern Nevada in 2017. Prior to getting her Master's degree, Sabrina worked for both the Clark County, NV and Charles County, MD school districts in special education. She enjoys spending all her time with family and dogs in the outdoors, usually fishing or off-roading. Sabrina's passion in life is to support every person on their communication journey; providing a safe place filled with support, love, the gold standard of care, and of course… fun!
According to the American Hippotherapy Association (AHA), "The term hippotherapy refers to how occupational therapy, physical therapy, and speech-language pathology professionals use evidence-based practice and clinical reasoning in the purposeful manipulation of equine movement to engage sensory, neuromotor, and cognitive systems to achieve functional outcomes.  In conjunction with the affordances of the equine environment and other treatmstrategies, hippotherapy is part of a patient's integrated plan of care." The American Physical Therapy Association (APTA), American Occupational Therapy Association (AOTA) and American Speech and Hearing Association (ASHA) accept and endorse hippotherapy as a treatment strategy. A list of research studies on the effectiveness of hippotherapy as a treatment tool for physical therapy, occupational therapy and speech-language pathology can be found here.