What is Occupational Therapy?
The term "occupation" refers to what humans "occupy" themselves with in daily life. For a child, daily occupations may include dressing, feeding, handwriting, focusing at school. Occupational therapy helps people be as independent and successful as possible in their everyday activities, or occupations. Occupational therapists provide individualized evaluations to determine goals, customized intervention to improve the individual's ability to perform daily activities and goal assessment. Some of the most common skills we target are fine motor skills such as handwriting, gross motor skills like coordinating a jumping jack and sensory integration skills such as focusing and regulating emotions.  
According to the American Occupational Therapy Association (AOTA), "Occupational therapists help people across the lifespan participate in the things they want and need to do through the therapeutic use of everyday activities (occupations). Common occupational therapy interventions include helping children with disabilities to participate fully in school and social situations, helping people recovering from injury to regain skills and providing supports for older adults experiencing physical and cognitive changes."
What is Unique about Occupational Therapy at Kids & Horses?
Kids & Horses offers a unique variation to occupational therapy by incorporating hippotherapy. Hippotherapy is a treatment strategy that utilizes the movement of a horse to help achieve functional goals. The pelvis of a human moves back and forth (anterior-posterior), side-to-side (lateral) and round-and-round (rotation). So does the pelvis of a horse! When a person rides on the back of a horse, their body experiences a similar motion to walking. This simulation has been shown to help people with disabilities who could not walk, be able to walk.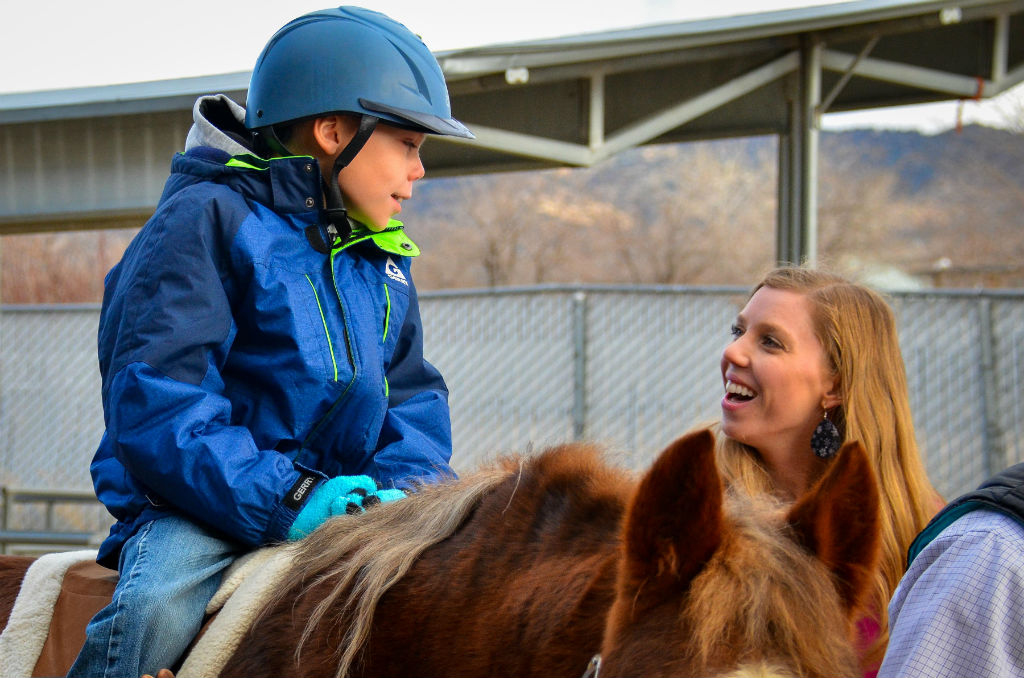 Equine movement challenges core strength, balance, strength, flexibility and provides sensory input. Activities are incorporated to promote increased sensory integration, coordination, fine motor skills, visual perceptual skills, social skills and so much more. The rhythmical and repetitive motion provides sensory input which is very effective in helping individuals with sensory integration challenges such as Autism, ADHD, Sensory Processing Disorder, Fetal Alcohol Syndrome, Fragile X Syndrome, speech-language delays, behavior challenges and other developmental disabilities. The therapist can grade the level of sensory input to the client by varying the horse's gait, maneuvering the horse in certain patterns and altering the positioning of the rider.
While astride the back of a horse, clients engage in a wide variety of activities to address their individualized goals. For example, reaching out of their base of support to drop a ring down a pole works to increase balance and strength. Placing clothespins in their horse's mane facilitates improved fine motor skills. Riding backward provides increased vestibular input and completing a multi-step activity promotes increased focus.
Typically, half of each occupational therapy session is spent utilizing hippotherapy as a treatment strategy. The other half occurs in the sensory gym, filled with fun therapy toys and equipment. During "gym time," traditional occupational therapy techniques are utilized. Sensory integration, fine motor, gross motor and self-care skills are targeted through purposeful play. During this time, the occupational therapist and families also collaborate to problem-solve challenges and develop strategies for home and school. All 60 minutes of occupational therapy can be offered in the gym if hippotherapy is determined to be unsafe for an individual (i.e. uncontrolled seizures or atlantoaxial instability present in Down Syndrome), the client is under the age of 2, if the individual does not wish to ride, when the horses have scheduled vacations and/or on inclimate weather days.
" Samuel talks most about two things: He loves riding and grooming (equally so) Doc or Apollo and doing the tasks he is set to do on the horse that day, and he loves sitting in Amy's rice bucket and fishing out items. He loves "his" horses!"
Samuel's Mom
What is the frequency?
Occupational therapy sessions are most commonly 60 minutes, once per week. Typically, the first 30 minutes are dedicated to traditional treatment techniques in the gym on-site and 30 minutes of goal-directed activities on horseback.
What is the Cost?
We are in-network with Medicaid, Hometown Health, Blue Cross Blue Shield and Prominence. Private in-network insurance plans typically require co-pays and cover the rest after deductibles have been met. Out-of-network insurance plans may be able to be billed out-of-network. Some insurance plans do not cover therapy services or have limitations. In this case, you may talk to the therapist about what would be the best payment option for you. 
How do I start?
If you or a loved one is interested in occupational therapy at Kids & Horses, please complete our Prospective Client Form. You may also email info@kidsandhorses.org or call 775-267-1775.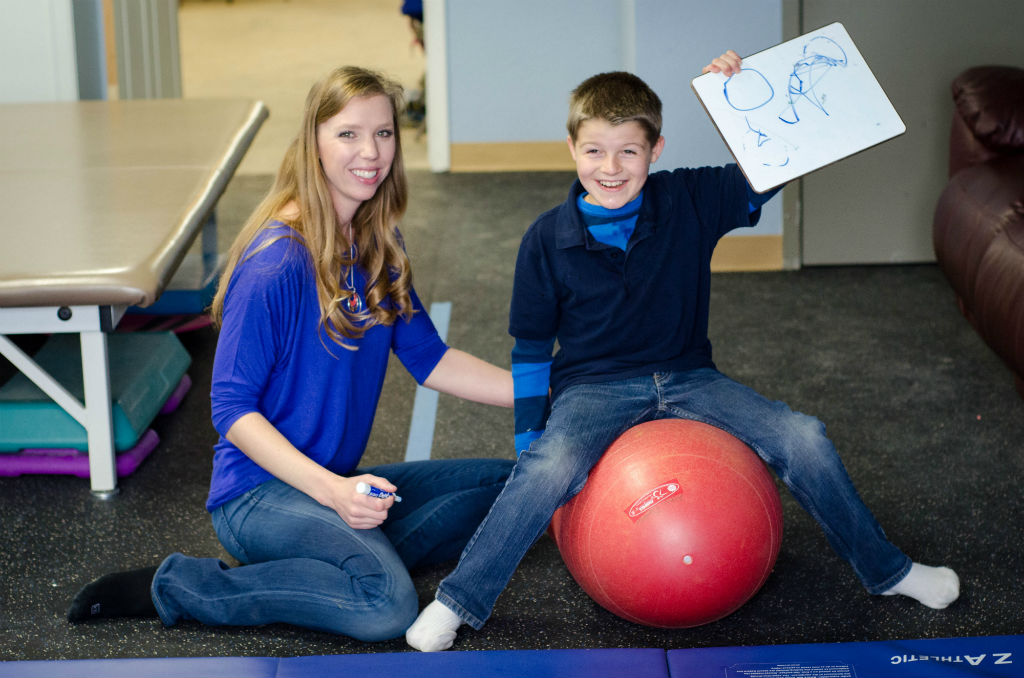 Amy Schelert
Amy discovered her passion for individuals with disabilities when she began volunteering at an adaptive horseback riding center at age 15. Soon after, she became a certified instructor under the Professional Association of Therapeutic Horsemanship and taught adaptive riding lessons to children with disabilities at UCP/Saddle Pals Therapeutic Center in the Sacramento Area. Amy earned her Master's degree in occupational therapy from the University of Southern California in 2011. She completed a 13-week internship at the National Center for Equine Facilitated Therapy in Woodside. Amy worked full-time at Jabbergym, an outpatient pediatric clinic in Sacramento, and per diem at Xenophon Therapeutic Riding Center in Walnut Creek where she utilized hippotherapy (equine movement) as a treatment strategy. After moving to Nevada, she worked full-time at Sierra Therapy Group, a pediatric out-patient clinic in Reno until she introduced occupational therapy at Kids & Horses. Amy earned her Certification in Sensory Integration (referred to as "SIPT-certified"), holds training in Handwriting without Tears and completed the Level I hippotherapy course. Amy engages children in goal-directed activities on horseback as well as traditional treatment strategies in the clinic on site. Whether working in a therapy room or horse arena, Amy is passionate about helping children improve their fine motor, gross motor, and sensory processing skills to achieve their highest potential.
According to the American Hippotherapy Association (AHA), "The term hippotherapy refers to how occupational therapy, physical therapy, and speech-language pathology professionals use evidence-based practice and clinical reasoning in the purposeful manipulation of equine movement to engage sensory, neuromotor, and cognitive systems to achieve functional outcomes.  In conjunction with the affordances of the equine environment and other treatment strategies, hippotherapy is part of a patient's integrated plan of care." The American Physical Therapy Association (APTA), American Occupational Therapy Association (AOTA) and American Speech and Hearing Association (ASHA) accept and endorse hippotherapy as a treatment strategy. A list of research studies on the effectiveness of hippotherapy as a treatment tool for physical therapy, occupational therapy and speech-language pathology can be found here.