Hippotherapy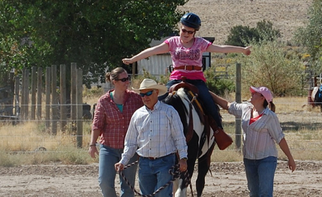 Kids & Horses is proud to be offering Physical Therapy utilizing Hippotherapy through New Light Therapy. New Light Therapy is a private, outpatient physical therapy clinic that specializes in utilizing Hippotherapy (the movement of the horse) during treatment sessions.
What is Hippotherapy?
Hippotherapy is a treatment strategy that utilizes the movement of the horse to achieve functional outcomes and movement dysfunctions. Hippotherapy takes place in a controlled setting and is only performed by a licensed Physical, Occupational, or Speech Therapist. Research has shown that the rhythmic and repetitive motion of the horse provides sensory input to clients that is similar to human movement patterns of the pelvis while walking. The therapist can grade the level of sensory input to the client by varying the horse's gait. Hippotherapy has also been shown to improve core stability, balance, posture, mobility, and function.  
Who Benefits From Hippotherapy?
Hippotherapy can be beneficial for all ages, from children of at least 2 years of age, to those in their 70s. There are a variety of diagnoses treated, such as Cerebral Palsy, Multiple Sclerosis, Traumatic Brain Injury, Stroke, and Developmental Delay. However, Hippotherapy may not be appropriate for all diagnoses. Therefore, each client is given a thorough evaluation to determine if Hippotherapy is the right kind of therapy for that individual.
Indoor Physical Therapy Sessions
Since Hippotherapy is only one of the treatment strategies utilized in Physical Therapy sessions by New Light Therapy, "off-horse" activities are also performed. Every physical therapy session is personalized to achieve the specific goals and functional outcomes needed for that client.
How to Schedule an Evaluation
If you are interested in participating in Physical Therapy utilizing Hippotherapy, you must first obtain a referral from a physician. Please call New Light's office at 775-782-2085 to receive a referral form to be filled out by your physician, along with an informational packet. Once a physician's referral is obtained, an evaluation can be scheduled.  
More Information
Visit New Light Therapy's website, http://newlighttherapyllc.com/
Meet Erin R. Vaillancourt, PT, DPT, HPCS
Founder/ Treating Physical Therapist at New Light Therapy
Erin's passion for horses and horseback riding started at the young age of 7 years old and has continued throughout her life. She also became very involved with Special Olympics and working with the disabled in high school while volunteering with her sister, Megan's, Special Olympics teams.
While performing her undergraduate studies at Azusa Pacific University, she heard about Hippotherapy and it was a perfect fit: a job that would combine her love for helping the disabled and passion for horses and being outdoors. Erin received her Doctorate in Physical Therapy degree in 2005 from the University of the Pacific, and has been practicing in the Gardnerville/Carson City area. She also performed a 6-week internship at the National Center for Equine Facilitated Therapy during her studies, where she received intense training in the use of Hippotherapy as a treatment strategy. She has completed her Level II Hippotherapy coursework from the American Hippotherapy Association and has completed her certification as a Hippotherapy Certified Specialist. This clinic would not be possible without the love and support of her husband, Chris,  and her family. In their spare time, Erin and Chris are enjoying teaching their children Haley and Matthew how to love animals and the outdoors.