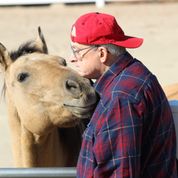 Spring 2022 Dementia Workshops
Horses mirror people's emotions. We use this mirroring to help participants: learn stress reduction strategies, reduce feelings of depression and anxiety, improve quality of sleep, and provide greater awareness of the moment. Workshops are 2.5 hours, once a week for 3 consecutive weeks. No prior experience with horses is necessary to participate. Participants engage with horses from the ground, no riding. Participants must be ambulatory and willing to participate as a pair in the workshop.

Workshop Dates and Times: 
 Session 1: May 7th , 14th and 21st from 9:00am -11:30 am or
Session 2: June 11th , 18th and 25th from 9:00-11:30 a.m.
Workshops held at Kids & Horses Therapeutic Center 2869 Esaw St. Minden, NV 89423 
There is NO FEE to participate but donations are gratefully accepted.
For More Information & To Sign Up: 
Call Nancy 
(916) 708-4904 
Connected Horse 
or 
Catherine 
(775) 720-8614 
Kids & Horses